Edvance360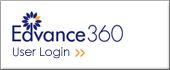 Students submit assignments, communicate with classmates and instructors and may be involved in online communities through Edvance360. This system will allow the instructors to share video clips, YouTube© videos, audio files, picture and more to enrich each student's learning experience. C-N Online, powered by the Internet-based learning management system and secure social networking software Edvance360 LMS-SN©.
New Students, Faculty and Staff
In order to log onto the Edvance360 LMS-SN you need to be an active member of the current student, faculty and staff with a valid network account.
Returning Students, Faculty and Staff
To access and use Edvance360 LMS-SN you will log in here by using your Carson-Newman network account user name and password.
---