Students taking an online course for the
first time need to complete this short orientation.
Only accepted students with a active network account have access to this orientation.
BEFORE accessing the orientation, make sure you are using Firefox browser with the at least the
minimum computer configurations.
1. Log in to Edvance360 and select the Courses Tab.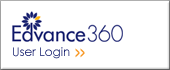 2. Select the Student Orientation for Online Courses link.

3. Read the Getting Started instructions under the Course Description section of the course home page.

4. When you have completed the course you will receive a certificate and have access to your course.